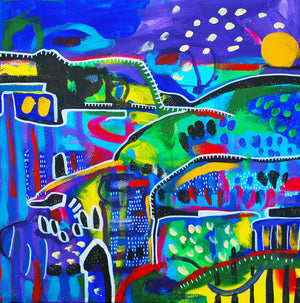 Hope in our heart
Sale price Price $543.00 Regular price $811.00 Unit price / per
Hope in our heart by Aasiri W.
2020
40x40x1 cm
Aasiri is a Sri Lankan born artist with a background in architectural studies and was an award winner at London's Art biennale 2019. Her practice involves consistent experimentation with different materials and is a reflection of her perception of different landscapes and spaces. She identifies with each space at an emotional level such as historical significance or personal experience and interprets it in a conceptual manner through her work. The beautiful blues and colours in this work highlight expressions of memories both from the artists childhood and adulthood.
The colours and patterns of this artwork ooze nostalgia and positivity.