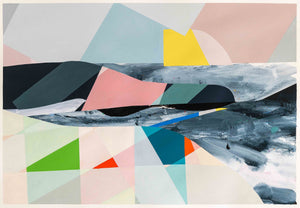 As Within, So Without, No. 3 (SOLD)
Sale price Price $1,554.00 Regular price Unit price / per
As Within, So Without, No. 3 - by Anca S.
Creation Date: 2020
Medium: Acrylic on handmade paper
Paper Size:  35.8
 x 50.8 cm 
Painting Size: 35
 x 40 cm
Frame Size: 71.8 x56.5 cm
"I believe in the energy of colours, in the power of healing since each colour vibration opens channels of communication with the divinity and wholeness within." 
Anca S. is a painter in practice but philosopher in concept. She spends a lot of time questioning and contemplating life in all its highs and lows and tries to capture the vibrancy of what it really means to be alive.
"Each landscape channels a certain emotional state of being, present within me the moment I entered my studio in the morning. They are reflective of my inner reality, they are the emotional response to my thoughts and active beliefs translated into form rather than places of my walking life stored into my memories.
As I go within I close my eyes; I am the breath. The chatter of the mind naturally subsides. And then I see...merely memory fragments from my walking day reality...abstruse, indefinite faces or places...nothing connected to space-time, only lucid emotions. The whole suspended in a moment. I equate resilience with being in the flow. When the mind is still I can surrender I can embrace the unexpected."
Learn more about Anca's work, her story and visit her studio through our blog.