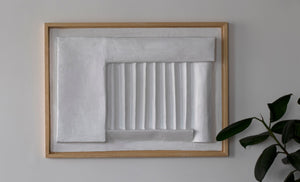 Mind Palace No. 7
Sale price Price $1,295.00 Regular price $712.00 Unit price / per
"Mind Palace No. 7" by Lana M. 
Creation Year: 2021
Size: 56.0 x 75.0 x 7.0 cm
Mixed Media on Board  
Lana M. is a London based concept-driven abstract artist and art director creating mixed media paintings and sculpture. She embraces the transient and incomplete nature of art-making and seeks to expose the creative process as a practice of building/demolition and growth/erosion, as mirrored in urban spaces and nature.
"Mind Palace no. 7" is an artwork from the artists 'Mind Palace' series'. The works in the Mind Palace series are sculptural wall hangings with a constructivist edge. Visually influenced by the work of celebrated Dutch artist Jan Schoonhoven (1914-1994), the geometric forms in these works, which resemble urban structures, use shifting light and shadow to change the look and feel of the piece throughout different times of the day. The series title Mind Palace is a reference to the act of remembering, and the fleeting spaces in our imagination.
This artwork would give any home that modern edge, and it's definitely one of the mosts calming and relaxing artworks presented by Curaty. This would be a great artwork to try meditating with, give it a try by following these steps in our blog on "How to meditate with art"!