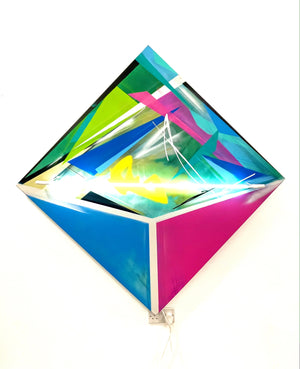 DIVING DEPTH by Laura B.
Sale price Price $5,436.00 Regular price Unit price / per
DIVING DEPTH by Laura B.
2022
100x100x3.8 cm
Mix Media and Neon on Canvas
Laura B. is a multidisciplinary contemporary artist working at the intersection of art and science. She studied painting in Venice, Italy at the Academy of Fine Art and in 2008 she has been awarded the Arnaldo Pomodoro's artist in residence where she studied Metal Sculpture.  Her work is informed by scientific phenomena such as bioluminescence and movement science. Generative in nature her work spans a wide range of media, including painting, performance, light installation, sculpture, and bio-art.
The abstract painting and drawings incorporate the language of geometry where structures are dynamic and entangle colour washes, led light and lines. There is an element of nomadism which is eminent in all her works. A hidden urgency of movement from one space to another to construct an unconfined realism, a sort of desire to map a territory of migration that evolves over time with her research. A crucial part of her experimentation is the establishment of space and emancipation. Often working with museum collections and scientists she questions her work on a deepening level investigating every aspect of the process.
Her work in the past decade has received International recognition including being selected for the Arnaldo Pomodoro Artist's Residency, Urbino, Italy; Jardine Orange Residency, Shenzhen, China, Affordable Art Fair New York, The Houses of Parliament, London; Zari Gallery, London; HubArt gallery, Milan, Italy, and is kept in private and public collections. Her work has been recently selected to be published in the magazine I_Science from the Imperial College in London and the Jan Van Eyck Academie. Laura has currently been awarded the Artist in Residency Award from the Institute of Biomedicine in Barcelona 2023.